Post by debutante on May 26, 2020 17:11:45 GMT -5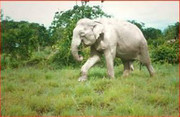 Above is the photo of a White Elephant. I own one -- although mine isn't of the mammalian variety. Mine takes the form of a stock purchase I bought on impulse the day after my father died.
You might wonder why I'd do such a thing during a period of mourning and I have a good answer for that -- the company, a supposedly up and coming biotechnology firm, was developing an injectable drug, which would cause the body to grow new blood vessels thus eliminating the need for coronary bypasses.
My father died during a bypass surgery -- so having stumbled upon this article the day after he died seemed almost too coincidental. I never read stock articles. I felt compelled to invest.
It wasn't a huge purchase. As an up and coming company I got a lot of shares for my investment. And then the company had "internal problems" with its CEO that lasted for years and ended up in a huge court case. The drug in question was held up and never went to clinical trials.
For.this reason, .my purchase irritated my husband. It is (by his way of thinking) the one blot on an otherwise successful investment portfolio. I have never heard the end of my white elephant and how I purchased this on impulse. He and our accountant badgered me to dump it as a loss.
I refused. I still think it is a viable idea -- an injectable instead of a bypass. Then the brokerage firm told me to sell the stock because they didn't want to hold it for me anymore. It never moved in either direction. I told them to send it to me. I am stubborn that way. I locked my white elephant up in the safe deposit box at the bank.
I seldom think of my elephant. But today is my Dad's birthday and he would have been 96 if he were still alive. So he has been on my mind and of course, I thought of the elephant. I googled my elephant. They have changed his name and reorganized. They still haven't moved on the drug I'm rooting for-- but it seems they've applied for four patents on Covid-19 related therapies. It seems my white elephant is beginning to get himself a little color after all these years...
Wouldn't it be something if they finally get off their ass and move to get the original drug they were working on into clinical trials? I invested in it because I thought it might have given my Dad a few more years had it been available. And that it would save countless others a painful and frightening surgery. I can only hope. You see, I never really cared about the investment all that much. But try telling that to men.
But perhaps someday soon, I will have the pleasure of looking these naysayers in the eye and telling them that patience is a virtue. God bless my white elephant!
--Debutante